How to Get Job Satisfaction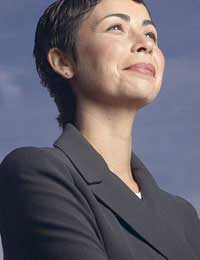 Does your job make you happy or is it just a means to an end? You spend an awful lot of your life at work so it is sensible to try and do something which you enjoy. Job satisfaction may seem elusive but it doesn't have to be. Perhaps you just fell into a career without actually considering what you wanted to do or maybe you were lured by the money or just took what you could. Either way, by really thinking about what you want and going after it, you will never fear Mondays again.
When you are considering what job would be right for you and could provide you with job satisfaction, ask yourself the following questions:
What are you good at?
What do enjoy doing?
What is important to you in life?
Answering these will give you a good idea of your priorities, skills and preferences. If you find them difficult or don't really know what you are good at then talk to a careers advisor who could help you do a few simple tests to find out.
Finding a New Job
If you decide that the only way to find job satisfaction is to change jobs then you need to set out looking for one that matches your criteria. Take your time to look at different career paths and companies and consider what the day to day realities would be. There is no point having an idealised view only to find out that it's actually just as boring as the job you left. Talk to someone in the job about what they do and how they feel about it. Also, find out about the values and practices of the company and make sure you are comfortable with them.
Making the Most Of Your Current Job
Sometimes, the quest to find job satisfaction doesn't need to be as radical and moving jobs. It may be that you can change what you do in your current job and feel much better about it. First of all, figure out what is lacking and how you could change it.
Do you want more responsibility?
Would flexible working help?
Are you looking for more variety?
Put together a proposal of how your problems could be fixed and approach your boss with a practical and well thought out action plan.
Going Self-Employed
Perhaps it isn't the job at all but that you are just not cut out to be an employee. Think about going freelance or setting up your own company so you can be more in control of your work. This way you can steer your career more in the way you want it to go and find work that you enjoy. Think carefully about making this move and whether you are suited to it and build up your contacts and savings before making the leap.
You spend so much of your life at work that it makes sense to do something that leaves you satisfied. Consider what it is in your current job that you don't enjoy and how it could be improved. Consider what is important to you, what you are good at and what aspects of a job would make you happy. Then work out how you can find these things in your current or job or what new career might provide them.
You might also like...