Dealing with Depression and Work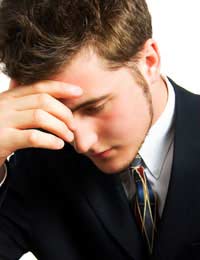 There is a bit of stigma attached to depression but it is actually very common with up to 25% people suffering at some point in their life. It is also important to understand that it is an illness, a chemical imbalance in the brain. People who say you should 'pull yourself together' or 'snap out of it' have a lack of understanding and aren't helping you. Recognising that you are depressed is the first step to seeking help and getting it under control so it doesn't affect your work.
Noticing the Signs
People who are depressed feel very low, upset and under the weather. It can be difficult to get out of bed in the morning and even more difficult to concentrate and be productive at work. Often, people who are depressed find it difficult to sleep and this just adds to the cycle. If you have severe depression you may also experience suicidal thoughts and consider ways to end your life.
Impact on Your Work
Almost 80% of people who suffer from depression say that it has a negative impact on their quality of work. Being constantly tired and low means that you are unable to concentrate properly and are also likely to forget things. The illness can also make you less willing and less able to interact well with your colleagues. It can be a vicious cycle as being stressed about work is also a factor that contributes to depression and when you have a heavy workload it can seem difficult to get out from underneath it.
Overcoming Stigma
Unfortunately, there is still a certain amount of stigma attached to depression. People have a lack of understanding about it and often think that the term is being used as an excuse. Because of this, people who are suffering from depression are often wary about telling people, especially at work, as they feel they will be judged and looked down on. Employers need to be more aware of the problems and you can help this by explaining exactly what is going on and what you need from your work to help you deal with your depression.
Getting Help
If you don't get any help for your depression then you are just going to dig yourself a bigger hole. Plenty of people manage their depression effectively and even overcome it, but only with help and guidance. Visit your GP who can prescribe you anti-depressants or a course of counselling. Talk to your boss about managing your workload better so that you don't become more stressed and add to your problems. It is not weak to ask for help but sensible and proactive.
Depression is a common illness and it is possible to manage it well and pull yourself out of that dark place that you are stuck in. First you need to recognise the signs and decide to help yourself. Don't worry about the stigma attached to depression as people who think less of you just have a lack of understanding. Talk to your work about the situation, let them know what they can do to help and visit your GP to get guidance.
You might also like...