Creating a Happy Work Environment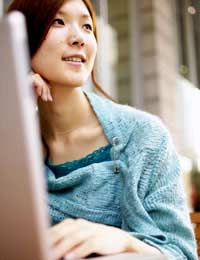 You spend a large amount of your life at work so it is important to create a happy environment to be in. Any discomfort, whether it is physical, emotional or professional, will affect your wellbeing and ultimately your ability to work well. Take time to make sure that you have done everything you can to make your office the space the best it can be and communicate with your colleagues to relive any office tension.
Get Comfortable
Are you sitting comfortably? Well, are you? Having a badly aligned chair or desk will put your back out and make it difficult for you to enjoy sitting at it. Ask your boss to get you a good ergonomic chair and check the dimensions so that you can sit with your feet flat on the floor and your elbows at right angles. Make sure your back is supported by the chair or bring in a cushion to use.
Get the Lighting Right
Nothing makes you more depressed quicker than having to spend your day with dingy lighting. This is especially important in winter when you can arrive at work and leave again in the dark. If you can't persuade your boss to install decent lights then consider getting your own. A light box that replicates natural light will help lift your mood and make you more alert and happy.
Personalise Your Space
Working in a characterless office can take its toll on you. By personalising it with your pictures, trinkets and things that make you happy, you can feel as if it more your own space. Try not to overdo it too much as you want to remain professional but a few small touches can make a big difference to the way you feel about work.
Communicate
Often, the thing that makes you unhappy at work isn't to do with the physicality of the office but the people that you work with. It can be difficult to get past any clashes and as the resentment builds, so does your unhappiness. The best thing to do it to try to talk openly and honestly with your colleagues and resolve any differences in a professional manner. By communicating your feelings you will no longer have to let them build up inside and eat away at you each day.
Ask For What You Want
Whatever it is that you need at work to create a happy environment, it's not going to happen unless you do something about it. If it is more light or a better chair that will make things better then ask for it. If it is tension amongst your team then approach the subject and get it sorted out. You need to look out for yourself and make positive steps towards creating a happy work environment.
Your workspace doesn't need to be an unhappy and faceless place. By concentrating on getting the lighting and seating right you will be comfortable and more productive. Look after your emotional wellbeing by personalising your space with happy memories and sort out any disagreements with colleagues. Whatever it is that you need, don't bury your head in the sand but go about changing it.
You might also like...