Overcoming Stress at Work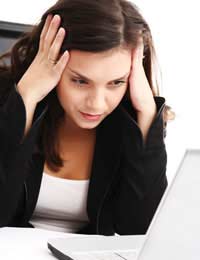 With life becoming increasingly hectic and more being demanded of people at work and in their home lives, it is easy to see why you may become stressed. When you want to keep everybody happy and do your best at all times, sometimes you begin to crumble under the pressure. This isn't good for you emotionally or physically and isn't good for your employer or family either. Before you find yourself imploding under all the stress you should try and take some measures to reduce it and free up your life.
Exercise
One of the best ways to reduce stress is to do some exercise. This will get rid of any built up anger or tension and also release endorphins, the feel good chemical. If you can't fit a gym visit into your busy schedule then try and do it in short bursts. Get out for a walk at lunchtime or get off the bus one stop earlier in the morning. Take a bike ride with your kids at the weekend or challenge your colleague to a round of tennis. Whatever you choose to do, it will help your body and mind regenerate itself from the stress of the office.
Talk About It
Letting all the stresses and strains build up and play on your mind is only going to make the situation worse. Remember, the saying 'a problem shared is a problem halved' really does apply. Talking to someone about your problems can make you feel a lot better an help you take steps to resolving the situation. If you don't have a friend or loved one you can talk to then consider talking to a professional who can be impartial about the situation and help you work through your feelings.
Ask For Help
When life is getting you many people deal with it by just putting their head down and getting on with it. People don't like to admit that they can't handle the situation and are either afraid or embarrassed to say that they have a problem. However, in the long run, not asking for help will not do you, your company or your family any good. The best thing you can do is to be honest about how you are feeling and then take measure to change it.
Learn To Say No
Many people, especially women, find it difficult to say no to anyone. You want to please people and be able to solve their problems but sometimes you need to concentrate on your own. If your to do list keeps piling up then you will eventually get lost beneath it. Be realistic about what you can achieve and prioritise your tasks. If something isn't important or can be put off then don't worry about it. And one you have reached your capacity stop trying to squeeze more things in and just concentrate on doing the things you do have, well.
Collapsing under stress is not going to do you any good and it is best to try and prevent it happening. Recognise when you are finding it difficult to cope, talk to someone about it an take practical steps to fixing it. Don't take on too much, ask for help when you need it and get out there and do some exercise to help get your mind back on track.
You might also like...