Beating the Monday Blues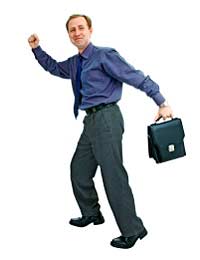 Everybody has had it. That sinking feeling where you can barely drag yourself out of bed to go to work on Monday morning. Unfortunately, Monday morning comes every week and there is no way of avoiding it! You spend so much of your life at work that you don't want to spend your precious weekends dreading it. There are ways to combat the Monday blues though and wake up happy about the week ahead.
Do something Sunday Night
Far too often, you spend Sunday night moaning that you have to go to work the next morning, This only prolongs the agony and eats into your weekend. Instead, plan a fun activity for Sunday night. This will make your weekend seem longer, put you in a happy mood and give you less time to worry about going to work on Monday morning.
Get Moving
Exercise is probably the last thing that you feel like doing on a Monday morning but can actually be a great way to start the week. By getting up half an hour earlier and going for a walk or being even more energetic and hitting the gym, you will release feel good hormones. Not only will it wake up your body and give you a physical boost, it will also make your brain more alert and ready for work.
Ease Yourself in
After a couple of days off your brain has probably gone a bit fuzzy so don't expect it do lots of complicated tasks on Monday morning. Take it easy when you get to work, have a cup of tea and catch up with your friends. This will remind you why work isn't so bad. Then give yourself a few easy tasks like sorting out your inbox or tidying your desk, to get you back into work mode.
Make Plans
When the weekend is over it can feel like there is a long time until the next one. So why not fill your week with fun things so you are not desperately waiting for Friday. Make plans to go for drinks with friends mid-week or meet your partner for lunch one day. This will give you something to look forward to and break up the work week in your mind so it doesn't seem so daunting.
Get a Better Job
If you really can't get over the Monday blues then it might be a sign that your job has run its course. If there is nothing about it that you can look forward to and filling your spare time with fun things isn't helping them think about finding a new job. Gone are the days when a job was for life and it is now common to move onto something else when you feel the need.
It is common to get the Monday blues sometimes and you can combat it by filling the rest of your time with fun activities. Don't spend your Sunday night fretting about it and get out and do some exercise to get the happy hormones flowing. If you really can't fix it then consider that fact that it might be time to move on and find a more satisfying job.
You might also like...