Incorporating Exercise Into Your Work Day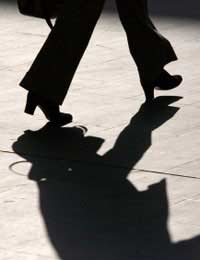 If your job involves sitting at a desk all day then it can be difficult to fit exercise into your daily routine. It is important to be active, not only for a healthy body but also for a healthy mind. Exercising regularly will keep your energy levels up and help you concentrate as well as alleviating stress and generally making you feel better. If you are not a gym lover there are still plenty of small steps you can take to stop you being stuck at that desk all day.
Walk, Walk, Walk
One of the best ways to exercise is simply to walk and there are all sorts of ways to fit it into your day. Leave the car at home or get off the bus a stop earlier than usual and walk the extra way to work. This will start off your day with an energy boost and make you feel as if you have done more with your day. Another simple step is to always avoid the lift and take the stairs instead – it's probably quicker half the time as well! Or why not get out at lunch time for a bit of fresh air or take a stroll on your way home from work.
Teamwork
Studies show that you are much likelier to stick to an exercise routine if you are doing it with someone else. It gives you someone to support and motivate you when you are lagging and makes the task more enjoyable. Team up with a friend to go running at lunch time or take up a new hobby together. Alternatively why not set up a football or netball team at work to get even more people involved. As well as providing exercise it will also become a social activity and make you more likely to stick with it.
It's The Little Things
Exercise doesn't have to be one long sustained session. The little things that you do throughout the day can all add up to keep you healthy. As well as always taking the stairs or walking up the escalator, there are a few more things to consider. Avoid the modern habit of sending emails to people in the office and get up and speak to them instead. Similarly, volunteer for the tea run and take a stroll while the kettle boils. There are also small exercises that you can do at your desk such as stretches and strength moves.
Perks of The Job
A lot of companies now actively encourage their staff to stay fit and it is worth taking advantage of these perks. Whether it is discounted gym membership or talks on keeping fit, give it a go. If your company doesn't already do these things then now is the time to suggest them. Get a group of people together to talk to your manager and give some specific suggestions about what could be done, using other companies' schemes as an example.
Keeping fit is important and the more exercise you can fit into your daily routine, the better. Taking small steps is the best way to build up the amount of exercise you do and sustain your routine. Walk as much as you can, get your colleagues involved and even talk to your company about offering fitness incentives.
You might also like...