Maintaining a Healthy Back at Work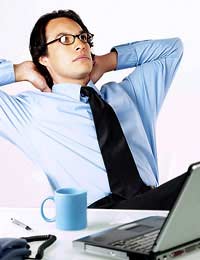 A painful back is one of the most common medical complaints, especially for people who spend all day sat at their computers, hunched over a keyboard. It may be common but it can also become very debilitating and affect the quality of you life both at and outside work. It doesn't need to be something that you accept and learn to live with though. There are plenty of steps you can take to make sure that your back stays healthy.
Ergonomics
Having your workstation set up correctly is an important part of maintaining a healthy back. If your company will do so, get them to invest in an ergonomic chair and get your set up checked by a professional. Make sure that your computer screen is at your eye level and that your elbows rest at right angles to the desk. Make sure that your sit up straight with your feet flat on the floor and if your back needs support bring in a cushion or roll up a jumper and tuck it in the small of your back.
A Healthy Back Starts at Home
As well as paying attention to the way you sit at work you need to also pay attention to your back when you are at home. Make sure that your mattress and pillow is supportive enough and that you are sitting well on your sofa. It can also be a good idea to take up yoga or pilates to help your back. Just ten minutes of doing it each day can really make a difference.
Watch Your Posture
Make sure that you are sitting well at your desk but also look at what your posture is like when you are standing or walking. Stand in front of a mirror to check it and make sure you are standing up straight and with your shoulders back. Pretend there is a string pulling you up from the top of your head so that you are as long and straight as possible.
Take Breaks
If you spend too long sat at your desk without a break then your back is likely to cease up and make any aches and pains worse. Take regular breaks and get up and walk around. If possible, do a few simple stretches to release any tension in your back.
Get Active
A good way to keep your back healthy is to exercise regularly . Pilates and yoga are great ways to strengthen your back but you can also do exercises in the gym to help. Even getting out for a walk or bike ride can help loosen up your back and keep it flexible. Try and incorporate exercise into your daily routine by walking some of the way at work or getting out at lunchtime.
Having a tense and painful back can really affect your concentration, comfort and happiness at work. By paying attention to your posture, the way your desk is set up and incorporating exercise to strengthen your back you can get the problem under control. It may be a common problem but it doesn't need to be one that affects you.
You might also like...
Hi I work as a MRF operative can anyone tell me how much time you should be allowed at the end of a shift as it is an extremely dirty and smelly job
Old git
- 25-May-17 @ 3:15 PM
Gina - Your Question:
Hi, I work for a small building company and there is 1 toilet for all of us at the Office.4 Male Directors and myself a Female Bookkeeper.My problem is I have to sanitize the toilet every time I need to use it, as one of the men urinates without lifting the seat so spraying urine onto the seat, and forgets to pull the chain I have addressed this problem with them but it keeps happening. It has got to the point that I do not want to use the toilet, so have started holding it in, now end up with a bladder infection. I am thinking of handing in my notice, but would like to know what I can do about it. Your advise would be greatly appreciated
---
Our Response:
Your employer should ensure toilet and washroom facilities for staff must be properly maintained under the Workplace (Health, Safety and Welfare) Regulations 1992. Please sse WorkSmart article
here
. I hope this helps.
WelfareAtWork
- 13-Aug-15 @ 12:57 PM
Hi, I work for a small building company and there is 1 toilet for all of us at the Office. 4 Male Directors and myself a Female Bookkeeper. My problem is I have to sanitize the toilet every time I need to use it, as one of the men urinates without lifting the seat so spraying urine onto the seat, and forgets to pull the chain I have addressed this problem with them but it keeps happening.It has got to the point that I do not want to use the toilet, so have started holding it in, now end up with a bladder infection.I am thinking of handing in my notice, but would like to know what I can do about it.Your advise would be greatly appreciated
Gina
- 11-Aug-15 @ 12:50 PM