I Retrained for a New Career: A Case Study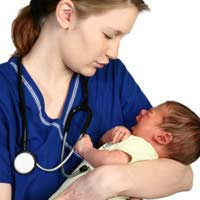 Penny Hope made the tricky but rewarding decision to leave her career as a web designer to train as a midwife. We spoke to Penny to find out what motivated her to make the change, and how she went about retraining for her great new career.
Changing Times
"When I left college I fell into a great web design job almost straight away, and loved every minute. I've since moved around a bit and ultimately I ended up working in a young and funky environment on some fantastic projects." Perhaps unusually, Penny didn't dislike her career, but felt a desire to do something more people-centred. "My husband and I had our first baby two years ago and I had amazing care from my midwife and doctor. After giving birth I missed being part of that world, and I really wanted to make sure other women had the great experience that I had." Penny's passion for midwifery led to a dramatic career change, not without its challenges.
Support Network
"Being a midwife is enormously rewarding but it can also be an emotional rollercoaster, with ups and downs, not to mention long shifts and sometimes little sleep!" says Penny, "I'd done my research, so I was well-prepared for the job, but it was hard to give up my good salary to train. I felt that I needed to concentrate fully on my career change, so I left my web design job and signed up for a three year course, luckily running near my home town." Penny explains, "It was really hard to adjust, especially with a young child to look after, but my husband and I changed our routines to accommodate me. I am so lucky that he supported my whim!"
Back to School
Penny's midwifery training took the form of a degree course, so she enrolled as a full time student. "If you have existing nursing qualifications the process is a little easier, my degree was in an unrelated subject, so I went back to school at the age of 33!" Following her degree Penny's training schedule was uncompromising, "I did lots of night shifts and some on-call work, too, which was a shock to the system for me and my family. I've now been working at a nearby hospital for two years so we're all used to it, but psychologically and practically it was a big shift for us as a relatively young family."
Planning for the Future
Penny has some great practical advice for anyone thinking of a career change. "Definitely find out everything you can about your new career, and talk to as many people as you can find who already do the job. Also, make sure your finances can cover any period of training or unemployment, particularly if you don't qualify for assistance." Penny's also keen to point out that changing careers can put a strain on family life, "so make sure that you talk over all your options with your partner, and enlist support from your family from the outset. You'll need it, whether emotional with exam stress, or practical with child care. Don't say no to any offers of help!"
A career change can invigorate you and propel you into a whole new world. If you've become a stranger to job satisfaction, why not give some thought to a new beginning? Your destiny awaits!
You might also like...