From I.T Worker to Self Employed: A Case Study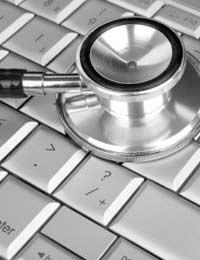 If you're thinking of making a career change, especially one that means you'll be working for yourself, you'll probably be wondering what you can expect, both practically and emotionally.
We talk to Jenny about her move from a managerial marketing role at a global IT company, to a job as a self employed writer.
Decisions, Decisions...
Having worked in IT for three years, Jenny knew she was ready for a change. "I'd always felt like the proverbial square peg in a round hole, and my role allowed no room for creativity at all."
Jenny's passion for writing was something she indulged in her spare time, completing a home study course in copywriting at weekends. Jenny became increasingly unhappy in her job, and the decision to leave was surprisingly easy. "I'd begun to feel I'd forgotten who I was and I knew I could make money from my love of writing!"
Making the Jump!
Luckily Jenny's bosses and colleagues were supportive of her decision, and fully encouraged her move into self employment. Free from the corporate grind Jenny took a few weeks out to de-stress and unwind. Only when she left did she realise how tired and miserable she'd become.
"I threw myself into the role of housewife for a while - it was just what I needed after my long stint in a conference call culture."
Exciting Times
With Jenny's marketing background she knew how to get her new career off the ground. She set herself up as self employed (be sure to do this within three months of starting your new business), created a website offering her freelance copywriting and journalism services, and began writing to every publisher she could track down.
"Mentally I was on a real high and it was great to be able to combine work with pleasure", Jenny explains. She quickly found some freelance work and enjoyed it, with working from home being a real novelty. Jenny's income is still significantly lower than when she was in full time employment, but the sacrifice has been "well worth it", and she's lucky to have a supportive partner to help bridge the gap.
Be Prepared
Practically, everything was and still is in place, but it's important to be prepared for the emotional journey that comes with leaving a well-paid job in a busy office environment for a solitary life working from home, not knowing where your next job will come from. Jenny's way of coping is to contribute to online forums where other home workers come together to swap ideas and experiences.
"There are lots of similarly minded people out there, it's just a case of connecting with them and making the most of the resources available to us all." Working from home permanently is difficult if you've been used to a buzzing, chatty office environment, so like Jenny, it's important to find time for social interaction.
Accountability
Being organised is essential if you're considering self employment. Jenny advises that you'll need to keep receipts for anything business-related, and it's essential to keep your invoices and accounts up to date. "Taking a thorough approach will help when tax return time rolls around and this will happen before you know it!."
Suitability
So how do you know if you'd be happy as a self employed worker? If you're independent, self-motivated and organised you've got a head start. Motivation can be a real problem, but forming relationships with other home workers will really help. As Jenny's business took off she found herself being out and about more often during the week. Her advice? "Be patient, stay keen and focus on every achievement, however small it may seem."
You might also like...