How I Climbed the Career Ladder: Case Study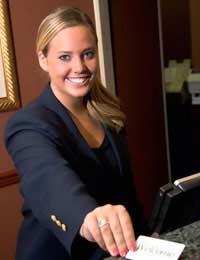 When Sam started working at the head office of a large online retail company as a receptionist, she never thought that five years later she'd be running her own department. Sam's a great example of someone who conquered the corporate world and climbed the career ladder. We spoke to her to get the inside story of her success.
Starting Out
"When I began my job as receptionist I was just out of college, so I was excited to be starting my first proper job at a well-known company," says Sam "I knew from that first week that this was a place I could be really happy." As the firm's receptionist Sam found it easy to get to know colleagues from across the organisation, and she made it her business to get to know their jobs, too. "I'm naturally curious and confident, so I spent quiet times researching the internal structure, and finding out who did what. It sounds like the behaviour of a stalker, but it really helped me identify the people I wanted to get to know!"
Ear to the Ground
Being front of house at her desk Sam was a natural stopping point for colleagues and she quickly became a trusted confidant for them, impressing them with her ideas and enthusiasm. "I listened and took notice of what people told me, and part of that was often finding out first when colleagues were leaving or on the move. Having been tipped off about one such move I made my step into the marketing team, this happened by going direct to its manager to ask if I could do the job." Sam's confidence paid off - the good reputation she'd developed as receptionist meant that colleagues had already noticed her potential.
Moving On
"I really think my few months as receptionist were invaluable in that I got to know everyone, making my subsequent roles much easier. I knew I fitted in already, and my relationship building was already done" says Sam. Sam's team valued her contributions immensely and she went on to get promoted twice, eventually becoming the marketing team's manager, with five direct reports. "I'm lucky to be here, but I worked hard to achieve what I have, and I've got loads of great advice for anyone starting at the bottom!" claims Sam.
Wise Words
Aside from getting to know people, doing her research and keeping her ear to the ground, Sam's advice includes being mindful of your image, whatever your position. "If you look professional and polished you'll be sending the right message to colleagues and superiors from the outset. Also show willing – ask questions and go that extra mile to help people in getting the job done." Sam also explains the benefits of developing good presentation skills to get ahead. "Sit in on presentations and learn from others and you'll be better able to present yourself and your ideas. Most importantly, be nice to people, that really counts!"
Sam's story could be yours – a little determination and hard work go a long way, and won't go unnoticed by influential colleagues. Get to know the business you work for and the roles within it and you might soon be telling your own inside story.
You might also like...