The World's Most Unpleasant Jobs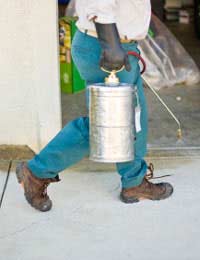 Sick of being lumbered with yet another unrealistic deadline? Think you can't stand another minute of your vacuous colleagues? However bad you think you've got it, spare a thought for the unlucky people who make (or made) a career out of these jobs from hell.
Back in Time
Some of the world's worst jobs have thankfully been confined to the history books, and none so happily as this one. Ever fancied being an executioner? Thought not. Anonymous work it may have been, but cutting off heads for a living was a messy and precise job. You've seen the state of a butcher's coat during the course of a normal day, right? Try explaining that at the laundrette. Axe wielding executioners had to be sure to swing the tool of their trade in just the right way to ensure total beheading and therefore immediate death. Not a job for the clumsy...
Dirty Work
Working at a refuse site really is dirty, smelly work. The responsibility of handling the enormous volume of waste that we all throw out has to fall to someone, and these operatives work tirelessly to place the right rubbish in the right container when you and I haven't bothered to read the directions. If the employees at your local rubbish tip seem to be a miserable lot, take a look around and watch them as they have to run around after us, without so much as a please or thank you. You'd scowl too!
Kitchen Sink
Next time you go out to eat spare a thought for the restaurant's pot washer. If your heart sinks at the sight of a sink full of washing up, imagine how it feels to be standing at a sink five times the size of yours, with enormous, boiling hot pans coming at you from all angles. A pot washer's job is seemingly never done, and it's very warm work. Ladies, there wouldn't be any point in wearing make-up! Before long the steam and heat send it sliding southwards where it joins the swirling morsels of discarded food in the sink below.
It's Criminal
Forensic investigation is a fascinating field, fuelled by cutting edge science and brilliant minds. Less exciting is the job of cleaning up a crime scene once those brilliant minds have left. The aftermath of gruesome murders, suicides, road accidents (and not all of them 'fresh') - you name it, someone out there in a head to toe overall makes it disappear.
Exterminate!
Being an exterminator has to be somewhere near the top of the list of unpleasant, if not disgusting, career choices. From creepy crawly cockroaches to bees, fleas and rats, the exterminator's job is a smelly, dirty and sometimes dangerous one. Imagine a carpet seemingly alive with fleas, or a cramped loft space literally buzzing with angry wasps...small spaces, biting, and stinging creatures are all part of a day's work for the boys and girls in pest control.
Next time your 'to do' list has you hiding under your desk, consider yourself lucky and think about what you could be doing for a living!
You might also like...