Safety of Work Equipment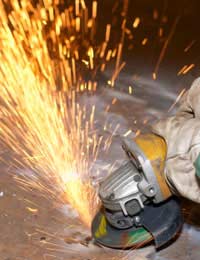 Every year, there are hundreds of accidents involving work equipment, some of which are extremely serious.
What is Work Equipment?
Work equipment is any item of equipment used at work and can include; machines such as circular saws, drilling machines, photocopiers and gardening equipment.
Hand tools, such as saws, screwdrivers and knives.Lifting equipment, such as hoists, cranes and lifting slings and other equipment, such as ladders and water pressure cleaners.
What Do I Need To Do To Comply With The Law?
Decide what can present a risk from each item of equipment used in the workplace. Think about what can be done to prevent or reduce the risk of injury. Check the existing control measures. Decide if more needs to be done i.e. if the existing controls don't seem adequate.
What Are The Risks From Using Work Equipment?
There are many hazards associated with using equipment at work. Some of these are:
Using incorrect equipment for the job e.g. using a ladder when a proper scaffold should be constructed. Inadequate guards on moving equipment. Deliberately defeating guards on moving equipment. Inadequate maintenance of equipment, especially guards and emergency controls. Not providing enough information and training to operators about the hazards, risks and controls that should be used to ensure the equipment is operated safety. Not providing adequate personal protective equipment for operators.
What Do I Need To Consider When Identifying The Risks?
When identifying the risks from work equipment, think about the following:
What has to be done with the equipment during normal use? What has to be done with the equipment during set-up? What has to be done with the equipment during maintenance, repairs and breakdowns? Who will use the equipment during normal work activities? Who will have to work on the equipment during repair and maintenance? How will new starts be trained on the use of the equipment? Will people constantly change jobs, and use different items of equipment? Will people with restricted vision or other disabilities be asked to use the equipment? Will it be possible for operators to defeat guards or other protective devices so that they can get the job done quicker? Have guards and other protective devices been poorly designed and are they in awkward positions? Will young people or inexperienced workers be asked to use the equipment? What type of power supply is in use, e.g. electrical, hydraulic, pneumatic.
What Can I Do To Reduce The Risk?
All work equipment should be CE marked. This ensures that the equipment has been manufactured to stringent safety standards. Never rely completely on the CE mark. Always follow the manufactures recommendations for repair and maintenance. Ensure that safety checks are carried out before the equipment is used and periodically during its use. Ensure that operators are properly trained in the use of the equipment and properly supervised by competent people. Ensure that safety signs and instructions are clear and concise.
Provide Guarding For Dangerous Parts Of Machinery
Controlling risk often means putting proper guards on equipment and machinery. The following points are important when guarding equipment:
Fixed guards should be used whenever possible. Fixed guards require special tools to remove them, so operators will find it almost impossible to defeat these types of guards. If operators need access to parts of the machine or equipment, a fixed guard is not usually practical. In this case, interlocking guards should be used. These turn off the power to the equipment whenever the guard is opened. In some cases, devices such as photoelectric systems can be used. These are often used when large items of equipment are in use. If operators stray into dangerous areas of the machine, the photoelectric sensors shut the power off to the machine. Think about the best material for the guards. Plastic may be easy to see through, but can easily be scratched or damaged. Wire mesh is a great material for use as a guard, providing the holes in the mesh cannot be penetrated by flying debris from the machine. Make sure guards are properly cleaned and maintained by competent people. Make sure people are properly trained in the use of guarding equipment.
Hand Tools
Hand tools present a significant risk if not used properly.
Hammers should be checked to ensure the shaft is secure and in good condition. Chipped hammer heads can cause the hammer to slip off the surface it strikes, causing and injury to the user or to another person. Files should also be inspected to ensure they are in good condition and that the shaft is in good order. Screwdrivers should never be used as chisels nor should they be struck with hammers. Spanners should be regularly inspected to ensure the jaws are not damaged.
It is always good practice to inspect hand tools on a regular basis, weekly if they are used frequently.
By taking some simple precautions and by installing proper guards or guarding arrangements, the most hazardous piece of equipment can be operated safely.
You might also like...