Personal Relationships in the Workplace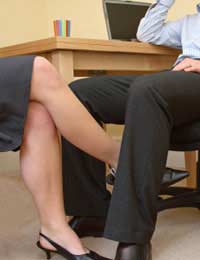 Considering how long people spend at work, it is no wonder that personal relationships begin to form. In fact, many people meet their future spouses in the workplace. However, it can be a difficult landscape to navigate as you still need to remain professional. Relationships at work can be frowned upon and in some companies there are actually rules against them.
The Importance Of Being Discreet
When you first fall for someone it is easy to get caught up in the heady first moments and not concentrate on anything else. However, you don't want to let your work suffer, especially when the relationship is a with a colleague. Although some people may catch on or make you a topic at the water cooler, it is important to be discreet about your burgeoning relationship. Don't flirt in the office and be careful about giving your colleagues too much detail from the offset otherwise they will continue to want to know more.
Considerations When Working With a Partner
The first thing people will be expecting when you have a personal relationship in the office is that you will treat that person more favourably. If you have to work closely with them or one of you is more senior to the other, you need to be careful about your interaction. You need to make sure that there is no favouritism or preferential treatment. At the same time though, if you go too far the other way it will also be picked up on and make for an awkward atmosphere.
Check Your Contract Regarding Personal Relationships at Work
Employers are aware that personal relationships at work can cause tension and trouble between colleagues. Because of this, some companies will actually state in their contracts that you can't date someone that you work with. Most places won't go to this extreme but they may still discourage such relationships and frown upon them. You need to know what your company's policy is and what action they may take if they find out about your relationship. You may be able to fight any unfair action that they take but it is much better not to get to that stage in the first place.
Dealing With the End of The Relationship If You Are Colleagues
Working with your new beau might be quite fun and exciting when everything is going well but what about when things go sour. Dealing with a break up is horrible at the best of times but when you have to see each others every day it can become insufferable. Try and remain professional and if possible talk to each other about how you are going to handle the situation at work. Save any cutting comments for outside the office and prove that you can keep your personal and professional lives separate.
Everybody deserves a good personal relationship but mixing it with work can be a recipe for trouble. If you can't help falling for someone at work, remain professional from the outset and keep the two separate. Make sure you know what your company's policy on the matter is and if you and your partner split up, try hard not to let it impact your relationship in the office.
You might also like...