All About Flexible Working-Is It Right For You?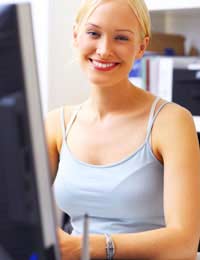 Within the decade the idea of flexible working has come into its own. Tired of being tied down to specific working hours, employees want to have more control over the lives and be able to find a better balance. Flexible working is particularly popular when people are raising families as it means they are more able to combine the two.
Many employers are now catching on to the fact that having happy, relaxed employees means they are actually more productive than when they were chained to their desks.
Flexible Working Rights
Your employer doesn't have any obligation to let you have flexible working rights but now, under law, they do have to give certain people the opportunity to be considered. If you have been employed for them for at least 26 weeks then you have a statutory right to ask if you:
Are the parent or guardian of a child under six
Care for a disabled child
Care for a partner or relative who lives with you
Your employer must give your request fair consideration and show that there is a reasonable business reason to turn you down.
Advantages of Flexible Working
Working flexibly has many advantages for both the employee and the employer. For employees it means they can take back some of the control over the lives and find a better balance. It is especially helpful for parents who need to take or pick up children from school or childcare. Employers find that people working flexibly often get more done. If they are working at home they don't have the commute or the distractions while even if they still come into the office, they are less stresses but also want to prove they are still valuable.
Which Type is Right For You?
There are a number of different ways to work flexibly. Popular choices are to work flexi-time, so you can choose when you start and finish or to job share so you split the responsibility and hours with someone else. There has also been a greater trend towards working from home as with technology you can always be in touch. Other considerations may be to work part time, or choose compressed hours, where you work longer days but fewer of them.
If Your Boss Says No
While some employers are clued up about how flexible working can benefit their company, many are not. Unfortunately they don't have to agree to give you flexible hours only to reasonably consider your request. Try to give them firm reasons why it would be a good idea for them and suggest a trial run to prove that it is possible.
Flexible working is becoming more and more common as employees and employers realise the benefits. If you have a child under six or care for partner, relative or disabled child then you have the right to ask for flexible working patterns. Unfortunately your employer is now obliged to give it to you. Try and show them the benefits – that you will be more productive, less stressed and work harder or suggest a trial run so they can see for themselves.
You might also like...