How to Ask For a Promotion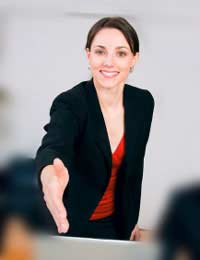 The chances are that at some point in your career you'll want to know how to ask for a promotion. Whether there's a too-good-to-miss opportunity within your organisation, or your role has grown while your rewards have remained the same, asking for a promotion is a good way to show that you're keen and career-focussed.
The key to success is not to demonstrate what a promotion could do for you, but what it would offer the business. Let's face it, you want more money to buy more stuff, but your bosses will want to know what they get in return.
Worth Your Salt
Before you go about building your case for promotion it's a good idea to lay the groundwork within your current role. Raise your profile by being positive and proactive and put extra effort into relationship building, particularly at the level you aim to join. The more people know you for your great personality and excellent work, the better. Get involved wherever you can and start making your management team wonder what they would do without you!
Business Case
Building a business case is the first step in proving that your skills are worth increased commitment from your organisation. Don't think about your request for promotion from an emotional angle – if it helps, imagine you're building a case for someone else. By viewing the process from a purely business-related standpoint your proposal will be clearer and more succinct.
In building your business case, use appraisal documents and any other evidence of the positive impact you've made on the company so far. If increased pay is your motivator, gather evidence of similar roles paid at a higher rate for comparison.
Crunch Time
So your preparation is done and you're ready to have 'the conversation'. This can be a nerve-wracking prospect, so practice first if you need to, and make sure you've considered all the questions you might be asked. Send a meeting request to your boss so that you both have a slot set aside to talk about only this topic.
You don't want to get distracted mid-flow. During your discussion talk through your business case, highlighting past achievements and the value you believe can add in your new role. Try to be specific.
Realistic Thinking
Hopefully you'll receive a positive response, but if not, be sure to find out why. This is important, since you might find it's nothing to do with you, but rather economical or other forces outside your control. Getting feedback will help you to understand what you need to do to reach your goal, even if you do conclude that you need to move to a new company to do so.
One thing's for sure, if you've built a great business case, you know you presented yourself in the best way possible. It takes courage and drive to ask for a promotion, so congratulate yourself for giving it a shot when many people would not.
With luck you'll soon be on your way to a great new role, with better career prospects and a bigger salary. Whatever the outcome, remember that piece of very old advice – if you don't ask, you don't get!
You might also like...