Handling a Workplace Drinking Culture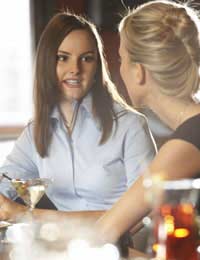 It is becoming increasingly common to find a strong workplace drinking culture in companies today. Whether it is a work lunch, networking event, or simply socialising, a lot of time revolves around alcohol. If you work in a high stress or highly sociable industry such as PR, then it can be even worse. It is easy to get sucked in before you know but make sure you are still in control so it doesn't affect your work or personal life.
Don't Break Under the Pressure
There can be a lot of pressure to join in with the workplace drinking culture, especially when you are new to a company. You want to make a good impression, get to know your colleagues and schmooze with the boss. This is all understandable but you need to stay true to yourself and not crack under the pressure. It is fine to get stuck in but make sure you are aware of when it is starting to impact on other areas of your life or affecting your ability to work well.
Stand Your Ground
When everybody in your team is drinking heavily or going to the pub after work every night it can be easy to feel like you have to do the same. However, what you decide to do out of hours should bear no reflection on your ability to do your job well and you need to stand your ground. If you so decide to go out then insist that you only drink soft drinks or be firm about what time you have to leave. Don't give in as once they have convinced you once they will see you as an easy target.
Know Your Limits
If you are not used to drinking a lot or find yourself downing shots, you need to get yourself under control. It is fine to enjoy yourself and get into the spirit of things but you also need to know your limits. Pay attention to when things begin to get fuzzy and stop a few drinks before then. Alternating each alcoholic drink with a soft one can also stop you sliding down that slippery slope too quickly.
Take a Break
Going out and getting drunk every night or even a couple of times a week, will soon take its toll on your body, mind and productivity. Don't be afraid to take a break form the ritual. Listen to your body – it will soon tell you when you are overdoing it and need to take a break. Be firm and limit yourself to a certain amount of nights out a week or make sure you are in bed by a particular time.
You don't need to become embroiled in the workplace drinking culture to show that you are good at your job. Stick up for yourself and make sure you put your body and health first. Be firm with colleagues about your intentions and they will respect your decision. Alternate soft drinks, leave the bar early or limit your nights out so that you always stay in control of the situation.
You might also like...