Would I Make a Good Teacher?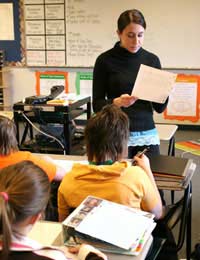 Teaching can be a wonderfully fulfilling career choice requiring a multitude of different skills and qualities. If you've ever wondered whether you could make a return to the classroom, take a look at our guide to what makes a good teacher.
What Does a Teacher Do?
There's a lot more to teaching than you may have realised, and this is a job that goes beyond the classroom. In addition to teaching the set curriculum, a good teacher motivates pupils and acts as the channel through which they can achieve their full potential. As well as classroom time that means attending department meetings, parents' evenings, extracurricular activities, marking and planning lessons - it's clear that teaching not a 9 to 5 role.
What Sort of Person Makes a Good Teacher?
If you could place a tick next to each of these qualities or skills, the chances are you would make a successful teacher and enjoy the exciting challenge that comes with shaping the lives of young people.
Resilient
Patient
Knowledge of your chosen subject
Excellent communicator
Passionate about spending time with young people
Sense of humour
Creative
Confident
Open minded
Able to find and nurture potential in young people
How Do I Train to be a Teacher?
There are a few ways to achieve Qualified Teacher Status, and the right one for you will depend on your level of education, existing commitments and the subject and level you wish to teach. It's possible to train at university or college, 'on the job' in a school or even online. The various options and requirements might seem confusing at first, but the Teaching and Development Agency for Schools website is a great source of information and should be your first port of call. Visit www.tda.gov.uk.
What Will I Earn?
Teaching is probably not the career for you if you are motivated by money, since pay can be relatively low, especially at the beginning of your career. Newly qualified, a teacher can expect to earn around £20-25,000 depending on location and previous experience. Location is all important, with inner city schools offering the best salaries (arguably reflecting the more challenging conditions). Pay is banded and teachers move up the scale with rewards based on a number of factors, including teaching grade, type of school and location.
Are the Working Hours Long?
With long holidays and half term weeks off, teaching might seem like a great prospect, but in reality the workload is tough. Teaching is a vocation, and not a job you can leave at work at the end of the day. There are lessons to be planned, books to mark and many meetings and events to attend. Red tape and bureaucracy mean there can be a lot of pressure on teachers, and many report that this can be hard to bear.Helpful References
Embarking on any new career requires a huge amount of research, but to understand the unique and rewarding challenges involved in teaching, you'll really need to do your homework.
See National Union of Teachers (www.teachers.org.uk) for further information.
You might also like...