Taking a Break at Work: What are Your Rights?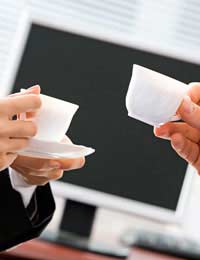 Sometimes it can feel like your boss would just like you to keep working until you drop down but you are entitled to a certain amount of rest by law. Taking breaks actually increases your productivity so it helps your employer anyway. You are entitled to different things depending on your job and your age but it is important that you know what these are so that you can look after yourself and make sure your employer is abiding by regulations.
Rest Breaks – Your Rights
When you are working you have a right to 20 minute break for every six hours that you work. Your employer can tell you when to take it as long as it is taken in one block, is not at the beginning or end of your day and you are allowed to spend it off the premises. Workers that are under 18 are entitled to more and can take 30 minutes for every four and a half hours that they work.
Daily and Weekly Rest
As well as rules about how much rest you are allowed within the working day, there are also regulations about how much time you should be given between shifts. You have the right to have at least 11 hours off between working days with this rising to 12 hours if you are under 18. You also have the right to a 'weekly rest' of 24 hours or 48 hours within a two week period.
Working Time Regulations
Your contract should tell you what hours you are required to work but if it doesn't then there are working time regulations to cover you. You cannot be made to work more than an average of 48 hours per week unless you want to. Also, as a full time employee you have the right to 24 paid holiday days a year. Your employer can tell you when to take it and may include bank holidays, but they must pay your for it.
Exceptions to the Regulations
As some jobs just don't fit into these regulations very easily, there are some situations when they don't apply in the same way. For example, if you work in the security industry or work such as medical which needs 24 hour staffing. You are still entitled to rest but just in a different way. You get 'compensatory rest' with the idea being that everyone should have at least 90 hours off a week. There are also specific rules for some industries such as mobile workers, the armed forces, and the medical and police professions.
Your employer cannot make you work constantly without a break and under the working time regulations have to give you a certain amount of time off. You must be allowed to take at least a 20 minute break if you are working six hours or more and are also entitled to 11 hours off between working days. On top of this you must be given paid holiday time. There are some exceptions to these rules and you employer may also be more generous so make sure you check your contract.
You might also like...
I work for a haulage company doing gate house security. I work 4 on and 4 off (12 hour shifts). I have worked for this company for 10. Years and have not had an uninterrupted for any of these years. I have to take my break doing my job. The the company pays me 42 hours per week. Am I entitled to my breaks by law. David. Thanks
Cantona
- 14-Jun-19 @ 4:32 PM
My employer only goves one 30 minute break in a 9 hour shift at 1pm. If we are busy with a customer or the like and not on our break by 1pm he takes the time off us saying we have donated time to the company by finishing the task at hand. Is this legal?
Ste
- 12-Jun-19 @ 1:54 PM
Hi my son who is 17 works in a well known sandwich chain. Yesterday his shift was 10-4.00pm but he worked 9.40-4.15pm as they wouldn't let him go. He kept asking for a break all day but the manager kept saying keep serving the customers. He can home starving, thirsty and knackered. Is that ok and what can we do about it?
betsy
- 2-Jun-19 @ 4:31 AM
Tomorrow (Sunday) I am working from 8.30 until 23.30 which is 15 hours. I am a home care worker. I have no scheduled break as the calls follow on from each other throughout the shift with only travel time (driving) between them.
Panda
- 13-Apr-19 @ 12:45 PM
I work for a care company we normally work 3 shifts in a row including night shift on average around 37 hours with no brake is this legal or can my employer get away without giving there staff brakes because we work in care
Stuart
- 4-Apr-19 @ 10:02 AM
If I do 9-5 on Saturday at work I normally get two 15 minutes paid breaks. I did 9-5 on a Saturday as overtime and had 2 15 minute breaks scheduled. I took them. My pay department say that when you work overtime, no breaks are paid. I've never known this since I started working 17 years ago. Is this correct?
Shaun
- 19-Mar-19 @ 1:01 PM
I work an 8hr shift & have always taken 4x5mins break, I have beeninformedthati now haveto take1x20mins break. Can my manager do this& if so am I entitledto any noticeof change?
Jules
- 13-Mar-19 @ 8:58 AM
I work an 8hr shift & have always taken 4x5mins break if convenient. I have now been informed I have to take a full 20mins break. Can my manager do this & if so am I entitled to any notice of change?
Jules
- 13-Mar-19 @ 8:51 AM
Good morning I have worked for my employer for 9 years as a salaried manager. In that time I have not been given a break. We work 9 hr shifts 5 days a week. This is not just me all salaried managers are not given a break. We can not leave the restaurant at all within our 9 hour shift. Is this allowed
Coops1081
- 15-Jan-19 @ 12:04 PM
My manager gave me a break 56mins into my 7 hour shift is that illegal . Plus I'm only 16
I work for a housing association where we have to participate in an on call rota, they have introduced recently, that if you get called out after 00:00am, then you get to start the amount of hours you where out later on the following day. for example: get called out at 00:00 get home at 3am Total time out 3hrs They then expect you in work and on your first job at 11:00am. Which is barely only 8hrs rest. Am I right in thinking this is incorrect as the the working time regulation states you must have 11hour rest in any 24 hr period, Or is it a different law when it comes to on call basis
11and half hour shift had been told no break s for anyone today.. Eventually got one.. A 9 hour shift... Got told only allowed 15 minutes asked for half hour.. Was refused and only allowed 15 minutes.. So ended up leaving 15 minutes early.. By mistake.! Thought I was rotated till 6 left 6.15.. Got home looked at my working hours was scheduled 6.30...can my boss have a go at me for leaving early bearing in mind.. I had not been allowed my legal quote of break that day
Boss keeps sending me on 45 min break 1hour and 10 mins into an 8 hour shift. When I tell him I don't need it yet he says tough
Me
- 29-Dec-18 @ 10:58 AM
my manager has sent a memo asking that breaks should be taken during shift and not at end as it has been brought to light( although it has been going on for 4 years) it is aimed at me really, and it mentions working time regulation 1998, as to abide by the law I will take the minimum of 20 mins during shift but can I continue to lave the remaining 40 minds and leave early as it has been practiced for 4 years minimum and is only due to schooling pick ups. ive been told I can apply to be flexi worker but feel there is no need as hes forcing this upon me since ive been doing this for 4 years, can it be covered under custom and practice? any help please asssit as I don't feel I should need to file a flexi worker application but should be able to continue under custom and practice by taking a break of 20 mind during shift and so....
m.zaman
- 26-Dec-18 @ 1:22 PM
My job start at 2pm and finish at 10 30 pm , half hour I take my break, I work 4 days on and 2 days offtotal I work 5 days a week but my manager pay me only for 37 .5 hours a week .
No nick name
- 20-Dec-18 @ 9:31 PM
My boss asked me to go on my lunch 45 mins after i started my shift at 9.15 am.. i asked if i could go later as only just started shift and they did let me have my lunch at 12 .. But then gave me a verbal warning ?? Im so worried and would like advise
Bill
- 18-Dec-18 @ 7:16 PM
I work 6 half hrs a day my supervisor says I can have 20 minutes break that's ok..so I take 10 mins half way through with agency workers they only do 4 half hrs and get a 10 minute break...then I have 10 minutes when they finish.ive now been told that that my 20 minutes up so the agency staff gets a free 10 minutes and she takes that from me can someone tell me if that's right
Hal
- 26-Nov-18 @ 11:11 PM
I work 8 hours without a break.who do 8 contact to be able to receive a break.
Vict
- 20-Nov-18 @ 4:06 PM
I work 8 hours without a break.who do I speak to , to change this and be able to getbreak
Vict
- 20-Nov-18 @ 4:03 PM
if i dont get to take my break due to circumstances on shift can they legally take it off me?
keelie-jo
- 20-Nov-18 @ 10:22 AM
I am 17 at work I only get a 15 minute break on a 5 hour shift is that wrong? Also on a 9 hour shift I only get 30 minutes paid break is that correct?
I work full time in retail. I've been asked to work until 10.15pm and then a 8.30am start the next day. Is this legal?
Smudge
- 3-Nov-18 @ 3:48 PM
Hi. Iwork in factory Shift 4 days work 4 d off 11 hours a day. I have two 30 minutes break. I am asking for information at what times of the day there should be breaks. my manager sends us on a break often at 6.20-6.30 am. I often have the first break at 10.30 am and the second break at 11.30 am. what should be the minimum time between breaks? and whether the manager can send me a break at 6.30 am when I start work at 6 am and finish at 5pm
Kasiura
- 11-Oct-18 @ 7:47 AM
I work 5 hours 11am to 4pm, 4 days a week, am I entitled to a break during my day
iwhrt45
- 7-Oct-18 @ 10:33 AM
My fiance works 8-12 hours and 6 days a week. His only off day is Sunday when the company is closed. He is often wore out and they make him work overtime.
FedUpFiancee
- 3-Oct-18 @ 9:56 PM
I work 7.5 hours a day in a school.When should I be allowed to take a break?Currently we have to work for 5 3/4 hours straight before we are allowed a break, is this legal?I cannot last this time without a drink or visiting the bathroom. Help!
Can someone clarify allowance of breaks for working alone on long shifts. I work in a 24 hour petrol station, alone, so cant shut down & take breaks. Does this law cover that too or is it a different thins?
Stratters
- 30-Sep-18 @ 9:47 AM
I'm under a 3 month probationary period at a care home morning or afternoon s shifts but I'm not entitled to a break till end of my 6-7hour shift is this right? I'm not happy
Apes
- 22-Sep-18 @ 2:07 PM
Can I be sent on a 45mins break after only working 1hour and then sent home for refusing to?.
I work 15 hours a week.Monday to Friday in one 3 hour shift each day always at the same time 9am - 12 noon.My employer wants to change these times so that I will do shifts of 1 hour at a time at 3 points during the day (9am for 1 hour then 12 noon for 1 hour and then 2 pm for 1 hour) thus absorbing my whole day but for only 3 hours paid per day.This is really inconvenient as I have other paid work in the afternoons with another employer.Can they force me to do this?
Scunnered
- 18-Sep-18 @ 1:23 PM