Tips & Advice On How to Ask for a Payrise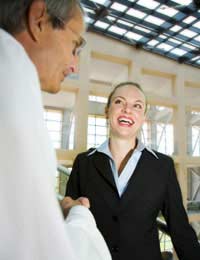 However much you earn, it never seems to be quite enough and a payrise would make your job seem a lot more satisfying. Well, if you don't ask, you don't get so take a deep breath and knock on your boss' door. Seriously though, if you think you are being underpaid then you need to talk to your manager about the issue. Be reasonable about what you ask for and be able to show them why you deserve it.
Choose The Right Time to Ask
There is no point trying to ask for a payrise after your first month in the job as you need to prove your worth first. If it time for a review, the end of your probation period or another significant moment then that is a good time to ask. Also, consider what is going on in the company. If they haven't been doing very well or are making redundancies then they are unlikely to have any spare cash. Choose a time when your boss isn't busy, appears to be in a good mood and is happy with your performance to give the best chance of the answer being 'yes'.
Know What You Want
Before you talk to your boss about getting a payrise you need to be clear about what you want. They will want to see that you have thought it through clearly. Have a figure in mind and be able to explain why you think that is fair and reasonable. Pitch in a little above what you would be happy to settle for and then be willing to negotiate.
Why Should You Get a Payrise?
Have you thought about why you should get a payrise? Because you want one is not a good enough reason. You need to prove why you are worth the extra money. Gather together clear examples of when you have exceeded your job description, saved money for the company or proactively achieved a goal. Be able to show that you are consistent, valuable and an asset to the company. Do not use other colleagues to compare yourself to as you want to prove that you are worth it on your own merit.
Deal or No Deal?
To negotiate a fair payrise you need to be clear about what you want, why you deserve it and what you are willing to accept. There is no point playing hard tactics if you are just going to slope back to your desk if they say no. Do you have the guts to quit if they don't give you a payrise?
While you don't want to employ any blackmail techniques you want to show that you are serious about your intentions. Perhaps decide that you will deal with a rejection this time and ask again in 6 months time or that you are happy to settle for a smaller amount. Whatever it is, decide beforehand and stick to your decision.
Asking for a payrise is never a fun thing to have to do, but if you don't ask then you'll never get. Pick a good time to approach your boss and be clear about what you want. Be able to give clear examples of why you are worth the extra money and know beforehand what you are willing to accept.
Welfare At Work is sponsored by Purely Energy, who have funded a lot of our content. If you are looking for a low cost business energy supplier, take a look at their website.
WELFARE AT WORK IS FOR SALE.
This website is for sale [more info].
You might also like...